In March of this year the world shifted in a way that we've never experienced.
A global pandemic unlike any other would change the world in so many ways.
Many Americans shrugged off the warnings to self-quarantine and limit their movement to essential needs only. After all, America is the land of the free and the home of the brave, right?
To suggest an immediate lifestyle of isolation to a country of people who are accustomed to doing as they pleased proved difficult. Shortly thereafter, the nation's education system moved into immediate lockdown and campus evacuations.
This meant that all students, both domestic and international, had to return home. This action would cause a series of concerns not previously considered to surface.
Global Pandemic and Campus Life
According to Goldrick-Rab and colleagues (2019), 18% of their survey participants at 2-year colleges and 14% of participants at 4-year colleges are housing insecure. Many of these students rely heavily on university housing for food and lodging. Universities began evacuating and, in some cases, providing students only 48–72 hours to vacate the premises.
What would become of the students who were housing and food insecure? Universities often provide campus pantries for these students. What is not publicly known is if universities also provide emergency housing in instances such as COVID-19.
Also, what happens to international students who are in the United States on student visas? As campuses evacuated and residence halls closed, international students were left without many options and had to return home. International students remain uncertain if they will be able to return to campus this fall. What will this mean for enrollment? How will this pandemic affect university budgets, considering that many international students are full-pay students?
International students immediately had to scramble to make flights in or out of the country before they were cancelled. These students also have indicated that they have not been successful in their attempts to contact U.S. embassies (Federis, 2020). As the likelihood of suspended services at embassies increases, the American Council on Education predicts a 15% drop in enrollment and a 25% drop in international enrollment for fall 2020 (Federis, 2020).
COVID-19 Exposed Educational Biases and Assumptions
The world as we knew it will never be the same. As an African American male in higher education, I am completely at peace with this.
Higher education, as proven by the creation of the hashtag #BlackInTheIvory by doctoral student Joy Melody Woods and Dr. Sharde Davis, has always been unkind to individuals who look like us. This pandemic allowed inside access for the world to also view how marginalized students, staff, and faculty are treated. It has allowed us to see the gaps that exist in the system of education and how universities make sweeping assumptions about their students. For example, an emerging issue in both the K–12 and higher education sectors is the assumption that all students have access to laptops and personal mobile devices to do their work.
It was also assumed that all students had access to Wi-Fi services. I learned from some of my own undergraduate students that they were writing course papers on cellular phones, borrowing Internet from neighbors, or having to log on at a church to complete their work.
A few of my students discussed how the pandemic forced them back into intolerable living circumstances that tested their already-fragile mental health. Other students were thrust back into the role of familial caregiver to aging grandparents while juggling 19 credit hours. What this pandemic also showed us is where institutions place their values. Faculty and staff members were furloughed or asked to reduce working hours to reduce their pay but remain employed (Nietzel, 2020).
These reductions are imbalanced from an ethical perspective and are felt mostly by employees with lower salaries (Nietzel, 2020). As an educator who has previously been on the wrong side of a budget cut, the people who take the greatest hit are often those closer in proximity to the average student. It's my opinion that athletic coaches and university presidents who make upwards of a million dollars or more in salary should always take the greatest hit in these instances. The rationale for this is that the loss of income would not have as great of an impact on their living circumstances. However, the employee who is a single parent making considerably less and furloughed will now have to acquire other resources simply to survive. Where is the middle ground?
A Demand for Action Because A Call Just Won't Do!
Racial tensions in the world are at an all-time high. Police brutality and racist occurrences are happening in plain sight, and ignoring them or playing obtuse are no longer acceptable practices.
The system of education may encounter a rude awakening as well as the forced overhaul of whitewashed educational practices. As we consider how we will now envision education, it is time that the voices of the marginalized be placed in course syllabi, guest lectures, university announcements, and in the classroom. For far too long we have allowed the privilege of whiteness to be the barometer for how we measure all things related and pertaining to education.
We have witnessed our peers who are Black women be ignored, talked over, and disregarded. We have watched our disabled peers be overlooked by ableism. Many of us have experienced the unfavorable denial of tenure based on unfair, biased student evaluations that negatively impact professors of color. We are taking a stand and saying "no more!" We will no longer be pushed aside, disregarded, labored without pay or for low wages, and abused. The time is up for the reign of privilege, White supremacy, White manning, and White fragility.
Institutions and institutional leadership will acknowledge these harmful practices and move to rectify them. We will no longer accept empty promises, carefully worded memos, or text messages from our fragile "allies." Which side of history will you be remembered for standing on, and will you be able to reconcile within yourself if you make the wrong choice? The choice belongs to all of us.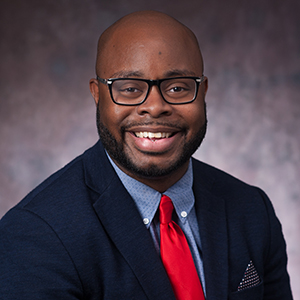 Dr. Frederick Engram, Jr. is an expert of graduate enrollment and diversity, equity, and inclusion. He is a qualitative researcher who grounds his research in critical race theory. He held faculty appointments at American University and Radford University and is now Assistant Professor of Practice Department of Criminology and Center for African American Studies at University of Texas-Arlington. He focuses his research on the lived experience of African American graduate students enrolled at PWIs (predominately white institutions). He is a published scholar and a contributing author of the book No Ways Tired: The Journey For Professionals of Color in Student Affairs: Vol II (2019), and the article "An Act of Courage: Providing Space for African American Graduate Students to Express Their Feelings of Disconnectedness" (2020). He has published several other articles for Blavity and Diverse Issues in Higher Education.
References
Federis, M. (2020, April 28). COVID-19 shakes up international student life — and university budgets. Retrieved from The World: https://www.pri.org/stories/2020-04-28/covid-19-shakes-international-student-life-and-university-budgets
Goldrick-Rab, S., Baker-Smith, C., Coca, V., Looker, E., & Williams, T. (2019). College and university basic needs insecurity: A national #RealCollege survey report. Philadelphia, PA: The Hope Center.
Nietzel, M. T. (2020, April 19). College furloughs have begun. Retrieved from Forbes: https://www.forbes.com/sites/michaeltnietzel/2020/04/19/college-furloughs-have-begun/#3ed3b3823cd0